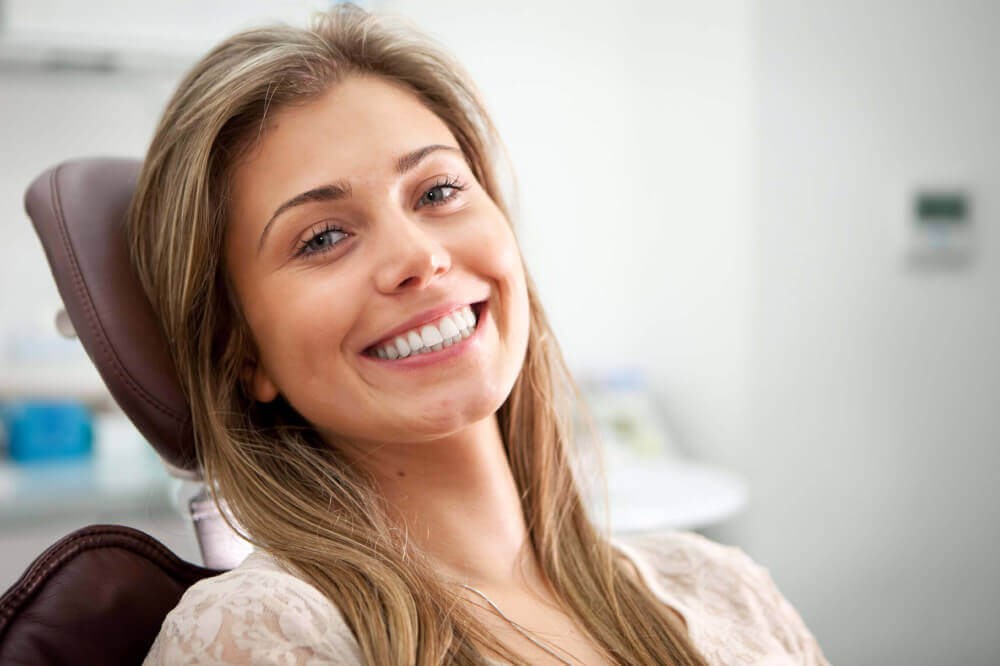 The versatility of porcelain veneers has helped to make them an extremely popular cosmetic dentistry solution. With the placement of these thin, tooth-colored shells on the fronts of teeth, a variety of aesthetic issues can be concealed to help create a dramatically improved smile. It is also possible to include porcelain veneers as part of a full-mouth restoration. At Contemporary & Esthetic Dentistry in New York, NY, Dr. Marianna Farber employs this procedure to address multiple cosmetic issues at a time with the goal of re-establishing proper function and structure to the teeth as well as to make them look their best.
What is a full-mouth restoration?
This completely customizable procedure is designed to restore or reconstruct all of the teeth on the upper and lower jaws. It also may fix bite-related issues. Missing, worn down, and damaged teeth can be corrected with a full-mouth restoration, which ultimately may improve the overall structural appearance of the face and help to diminish or eliminate gummy or thin-lipped smiles as well as wrinkles around the lips, corners of the mouth, and chin. In some cases, the procedure can alleviate pain in the neck and other symptoms that result from having a misaligned jaw.
By conducting a thorough examination of your mouth, Dr. Farber will be able to assess the condition of the teeth and note any cavities, cracks, decay, or signs of wear that may be present. Other factors - including the size, shape, and color of the teeth as well as how proportionate they are to your face, lips, mouth, and gums - will also be taken into account. She will check the gums on patients for signs of periodontal disease and study how their upper and lower teeth meet (called occlusion). The jaw muscles will be examined along with the temporomandibular joints for indicators of a condition called TMJ, which often causes pain and headaches. All of this information will assist the doctor in determining whether a full-mouth restoration is required as well as how porcelain veneers may be effective in providing the aesthetic and functional results that you desire.
One or more types of cosmetic dental procedures or treatments may be included in as part of your full-mouth restoration. Beyond improving the appearance of your smile, the restoration may also result in helping you achieve better oral and overall health by improving your concentration levels, as well as your quality and quantity of sleep. It also can boost your self-confidence so that you feel better prepared to take on personal, professional, and other social situations.
Are you a candidate for full-mouth restoration?
Numerous symptoms may point to the need the need for a full-mouth restoration. Those include having several loose, missing, decayed, misshapen, chipped, broken, or worn teeth. Patients with hereditary disorders including ectodermal dysplasia, in which the teeth fail to develop, also may be candidates for the procedure. Patients in New York City whose previous dental work, including restorative treatments such as crowns and bridges, has failed or is otherwise in need of replacement also may benefit. Those with gum disease and who experience jaw popping and pain associated with TMJ also can experience some relief by undergoing a full-mouth restoration.
The role of porcelain veneers
A host of cosmetic issues can be addressed with durable porcelain veneers, which often are lauded for their ability to closely mimic the appearance of natural teeth, particularly in the way that they reflect light. They are used to correct the shape, length, size, and color of teeth as well as to close gaps that have formed between them. As part of a full-mouth restoration, porcelain veneers can replace the use of other dental procedures and treatments including crowns, orthodontics, teeth whitening, and bonding. They are ideal for patients whose teeth have small cracks and chips, are oddly shaped, severely stained, or discolored. They also can assist by lengthening teeth to a more appropriate size, as in cases of microdontia, a condition which causes the teeth to appear abnormally small and results in large gaps.
The creation of your veneers begins with a consultation at the New York City offices of Contemporary & Esthetic Dentistry. Dr. Farber will explain what can be accomplished with porcelain veneers as part of a full-mouth restoration. She also will discuss with you expectations for the aesthetic and functional outcomes of the procedure. It is important to remember that some patients, especially those with periodontal disease or who have bruxism, a condition that involves clenching and grinding the teeth, may not be good candidates for porcelain veneers.
If the doctor determines that your smile as well as the functionality of your mouth can benefit with veneers, impressions will be made of your teeth. Those will be sent to J. Kim Dental Aesthetics, a top New York dental lab, where the veneers will be crafted from high-quality porcelain. Patients may opt for a sneak peak of their new look with PreNew PreView, a state-of-the-art technology that allows them to literally try their new smile on for size ahead of time, which is available at Contemporary & Esthetic Dentistry.
When your porcelain veneers are completed, you will return for an appointment with Dr. Farber. She will remove a small amount of enamel from the front of your teeth to allow for better adhesion of the veneer with a strong bonding cement. A few minor adjustments will be made and, following a quick polish, it will be nearly impossible to notice that any cosmetic dentistry work has been performed.
Caring for your porcelain veneers
Porcelain veneers are similar to natural teeth and should be cared for accordingly. Regular brushing with a non-abrasive toothpaste and daily flossing is required to keep them looking their best. Schedule and attend routine dental exams and cleanings to help maintain the overall health of your mouth. Avoid chewing on foods such as ice and hard candy, as doing so may cause damage. Following the placement of your veneers, you may experience some temperature sensitivity due to the removal of enamel from your natural teeth. This should lessen within a few weeks. With proper care, most porcelain veneers are extremely durable and long lasting.
Is a full-mouth restoration with porcelain veneers right for you?
As part of a full-mouth restoration, porcelain veneers can be powerful tools in helping to transform a patient's smile, improve their oral health, and boost self-confidence in their appearance. If you are considering this procedure, we invite you to call and schedule an appointment with Dr. Marianne Farber of Contemporary & Esthetic Dentistry in New York, NY.