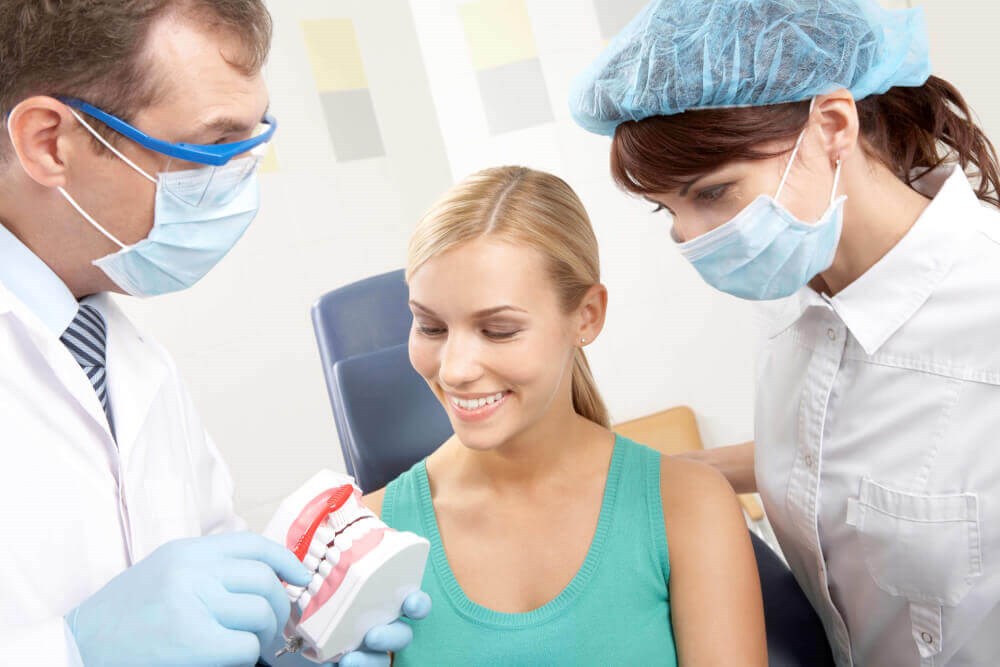 Most people enter adulthood with 32 teeth. They were designed to last the span of your lifetime. All of your teeth are important and work together in unison to help you chew your food, speak, and smile. However, sometimes they do not last, and by middle age, many adults are missing at least one tooth. According to Dr. Marianna Farber of Contemporary & Esthetic Dentistry in New York City, common causes for tooth loss include gum disease (also known as periodontal disease), untreated decay, and injury, all of which can cause trauma to the tooth and cause it to fall out or be removed.
Implications of missing teeth
When a tooth is missing, it can have serious consequences for your oral and general health as well be a source of embarrassment. A missing tooth can also affect the health of your other teeth by causing them to shift as they overcompensate for the gap. Plaque buildup is also more common in the unoccupied space, potentially leading to an increased risk of gum disease. Malnutrition is another potential concern as the missing tooth makes chewing nutrient-dense foods like lean proteins, fruits, and vegetables difficult. Unhealthy extreme weight loss coupled with decreased self-confidence are all concerns when teeth are missing. Dr. Farber combines her dental experience and skills to find solutions for patients in New York City with tooth loss issues. If you are missing teeth, dental implants are a great permanent solution that restores oral function to the mouth.
Dental implants for tooth replacement
Dental implants are a very popular option among New York City residents for replacing missing teeth. A viable alternative to bridges or dentures, implants feature a sturdy foundation for either removable or permanent artificial teeth. In fact, most patients report that they feel and look like natural teeth.
The endosteal implant is made from strong and durable titanium alloy. These small posts, which resemble a screw, is correctly sized for the gap in your mouth and surgically placed just above or directly into the jawbone. The implant becomes the new "root" that supports the attached artificial tooth (or teeth), or porcelain crowns. For those patients whose jawbones are not healthy enough for endosteal implants, subperiosteal implants are placed below the gums but above the jawbone.
Dental implants are a great solution to restoring functionality while looking virtually indistinguishable in your mouth. The implants also help preserve and stimulate jaw bone growth. They are a popular choice among New York City men and women who are missing one or more teeth, improving bite function while enhancing their smile.
Are you a candidate for dental implants?
New York City patients with one or more missing teeth as a result of injury, decay, or disease are candidates for dental implants. Also, men and women who can no longer wear removable dentures enjoy the permanency of implants. Dr. Farber will initially conduct a thorough oral examination of candidacy. Patients must be in good general and oral health, free of gum disease, and have an adequate amount of bone in the jaw to support the implant. If there is a lack of bone in the jaw, bone grafting may be recommended to regenerate and restore the bone before the implant procedure. Typically, dental implants are not suitable for younger patients with immature bone growth, pregnant women, or smokers. They also may not be a viable option for patients who have been diagnosed with a chronic medical condition or take certain medications.
How are dental implants inserted?
Careful planning and assessment are required for the placement of dental implants and crown production to New York City area patients. Dental implant placement is a surgical procedure, thus, patients will receive a local anesthetic to numb the area. After opening the gums, Dr. Farber precisely evaluates the site where the implant is to be inserted. A pilot hole will be drilled to hold the metal implant post. The implant is placed with the help of a special dental drill head below the gumline, where it takes a few months for it to fuse to the jawbone. During the fusion process, a temporary crown is placed on top of the implant. After the implant is secured and sealed, approximately 2-6 months of healing time is allowed for bone fusion before the final step which features the placement of the abutment with the new custom-made prosthetic tooth.
Implant tooth options
Single Tooth Replacement
During a single tooth replacement, an abutment attaches to the implant. The abutment is a device screwed into the implant and used to support a custom-made crown that is fabricated to match the rest of your teeth. The crown may either be permanently placed or screwed onto the abutment, securing its place. Once secure, your new crown blends with your existing teeth, making it indistinguishable.
Multiple Tooth Replacement
Multiple tooth replacement features virtually the same process as a single tooth replacement. The difference is the ability to attach to custom-made crowns or a bridge. A bridge features one or two crowns on either side of a gap. The final step is to affix the bridge to the abutments, either permanently or semi-permanently.
Removable Implant--Supported Tooth Replacement
For patients in New York City who are missing all of their lower teeth, two to six implants may be used to support a lower denture. For missing upper teeth, a minimum of four implants may be used to support an upper denture. Some patients choose removable dentures to replace extensive tooth, bone, and gum tissue loss. Another denture option is one that snaps into place on the implants. These removable dentures make for easier dental implant cleanings. During your consultation, your dentist will discuss the different options that are most suitable to meet your specific needs.
Maintaining your dental implants
Implant crowns and other prosthetic tooth replacements are made to be removable and replaceable by your dentist. In the unfortunate instance where irreversible damage occurred, a replacement crown can be added, which won't affect the steep post attached to the bone. Implants require good daily oral hygiene, including brushing and flossing. Regular dental visits for cleanings will protect your oral health. Dr. Farber will check implants to ensure the metal post remains stable and functions correctly.
To learn more about the transformative power of dental implants, you are encouraged to contact the office of Dr. Marianna Farber at Contemporary & Esthetic Dentistry in New York City, NY. She looks forward to helping patients take the first step toward restoring their oral health and show off a beautiful smile.