You may have gum recession if you notice gaps or spaces that form between your teeth and gumline. At Contemporary & Esthetic Dentistry, gum recession treatments using the innovative Chao Pinhole surgical technique can improve the appearance and health of your smile by repositioning the gumline, so that it covers more of the teeth and eliminates pockets that could easily create an oral infection. By removing the space between the teeth and the gumline, it can improve your dental health by diminishing places where bacteria commonly hides. This decreases your risk of getting periodontal disease and/or cavities. Dr. Marianna Farber utilizes the minimally invasive Chao Pinhole technique to loosen the gum tissue without the need for stitches or incisions. This allows for very little downtime after the procedure and reduces bleeding and swelling post treatment. Make an appointment for a consultation with Chao Pinhole-certified dentist Dr. Farber at our office in New York, NY to find out more about gum recession treatments using this innovative method. We can help you achieve your desired smile through safe and gentle techniques.

Reviews
"It was a great experience to be a client of Contemporary & Esthetic Dentistry. The staffs were nice, welcoming and accommodating to your needs. The dentist was very nice also, makes you feel at ease and explains to your understanding the procedure to be done. Prices were also reasonable for the wonderful service they render to you."
- B.D. /
Google /
Nov 08, 2018
"Always pleasant and professional. Explains everything step by step!"
- I.I. /
Demandforce /
Apr 19, 2019
"I've been coming now for a few years, Dr. Farber always takes the best care of my teeth, I've had everything from broken teeth crowned to tooth whitening to cleanings and more, and the results are always awesome."
- H.K. /
Google /
Apr 11, 2019
"Dr.Marianna Farber is by far the best dentist I've been too, my old veneers right in the front of my mouth broke, I was devastated, I work with people and need to look good, I called her office and got an appointment the following day and even the temporary crowns she made for me looked amazing, better than my permanent old veneers ever looked, she used a special order cosmetic temporary color which really looked great, she she also accommodated me by taking my insurance for partial payment which made this expensive treatment more affordable, while I wore my temporary crowns they never broke or gave me any trouble like I hear about from other people, I never had any pain, then the permanent crowns came in and they looked amazing, everything from the beginning to the end of my treatment was as pleasant as a dental experience can possibly be, can't recommend her enough!"
- S.M. /
Google /
Mar 06, 2019
"Dr. Farber is the best dentist in NYC! She is quick and does the job amazingly! I really love having her as my dentist and trust her work and judgment 100%."
- A.K. /
ZocDoc /
Jan 14, 2019
Previous
Next
Gum recession treatment using the Chao Pinhole surgical technique is beneficial for patients who experience frequent infections or periodontal disease due to gaps between the teeth and gumline. It also allows for an improved appearance in the smile and reduces the look of a gumline that does not properly fit over the teeth. Since no incisions are needed, patients can expect to heal more quickly than with other forms of gum recession treatment. Some other benefits include reduced swelling and bleeding, less painful recovery, immediate cosmetic benefits, and a reduced risk of infection.
Gum recession treatment is done in our office using local anesthesia. Additional options for sedation may be used if you have fears or anxiety about receiving a dental treatment. Before the procedure, your gums and teeth may be professionally cleaned then dried. For the Chao Pinhole surgical technique, a small hole is made in the gumline using a needle instead of creating an incision with a scalpel that would require sutures. Dr. Farber will then loosen the gum tissue before gently placing it further over the teeth. She may then place collagen strips into the gums above the treated teeth. With the Chao Pinhole surgical technique, there is no need for stitches after the treatment is completed.
Click the image below for more information about the procedure.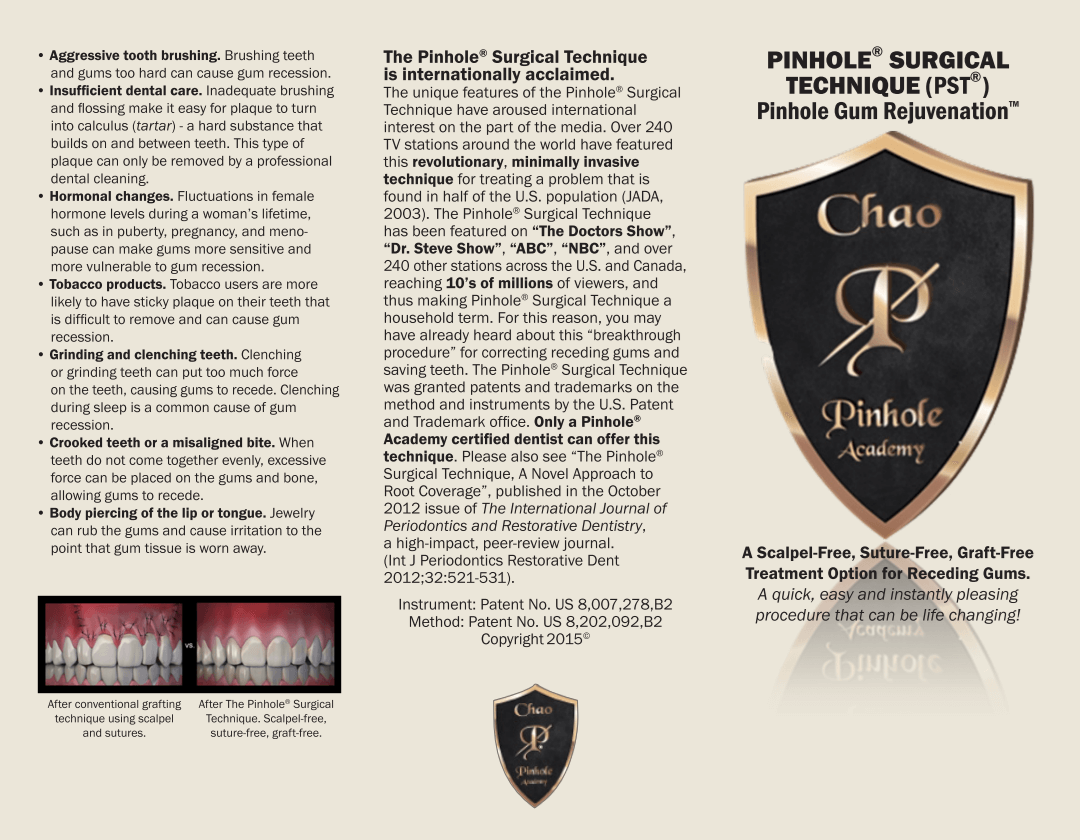 When your treatment is complete, Dr. Farber will provide you with necessary recovery instructions. She might write a prescription for antibiotic medication if symptoms of an infection were seen in the procedure. With the Chao Pinhole surgical technique, very little to no bleeding and swelling is to be expected during the recovery process; however, it is still important that you follow a proper at-home oral care routine of daily brushing and flossing so that your gum tissue will quickly return to normal. You should also continue to make appointments for yearly dental examinations so Dr. Farber can evaluate your oral health.
Gum recession treatments may be covered in part by dental insurance depending on the reason for treatment. Contemporary & Esthetic Dentistry also takes several payment methods. Dr. Farber can go over estimates of costs at your initial consultation and help you to find medical financing in order to make your procedure easier to afford.
Frequently Asked Questions
How is the Chao Pinhole technique different from traditional gum grafting?
The key to the Chao Pinhole surgical technique is that we don't have to perform a gum graft. We go through a pinhole, which is made by a needle, so there is no need for an incision or cutting of the tissue. Then, we are able to shift the tissue down with very little trauma. Since there are no open wounds, when the patient comes in the next day for a follow-up, there is little evidence of them having had this procedure performed at all because the tiny pinhole is usually already healed by this time. Traditional gum grafting is much more invasive and has a longer recovery.
What are the benefits of the Chao Pinhole technique?
This technique can help correct gum recession in as little as one treatment. There is less discomfort than with traditional gum recession surgery as this technique is scalpel, suture, and graft-free. Studies also show that the procedure can prevent tooth loss and prolong or eliminate the need for costly procedures later in life such as implants or dentures. The results of the Chao Pinhole technique are natural and long-lasting. Most patients can return to their usual routine in as little as 1 – 2 days.
What causes gum recession?
Gum recession is usually caused by periodontal disease (advanced gum disease). The bacterial infections destroy gum tissue, causing a recession. Other factors may include hard brushing, hormonal changes, tobacco use, or piercings of the lip or tongue. Gum disease (like gingivitis and periodontal disease) may also be caused by genetics. Studies show that nearly 30% of the population may be susceptible to gum disease.
What are the consequences of gum recession?
If left untreated, supporting tissue and bone structures of the teeth can be severely damaged and may ultimately result in tooth or bone loss. Early detection and treatment are crucial to maintaining optimal oral health and a gorgeous smile.
Gum recession treatment using the Chao Pinhole surgical technique at Contemporary & Esthetic Dentistry is a wonderful procedure for many reasons — it will improve the appearance of your smile, and it will reduce your chances of getting oral and gum disease without significant downtime afterward. If you would like to enhance your smile or have better oral health, gum recession treatment might be right for you. To get more information about this procedure, contact our office in New York to schedule your appointment with Dr. Farber.
Related Procedures
Related Posts