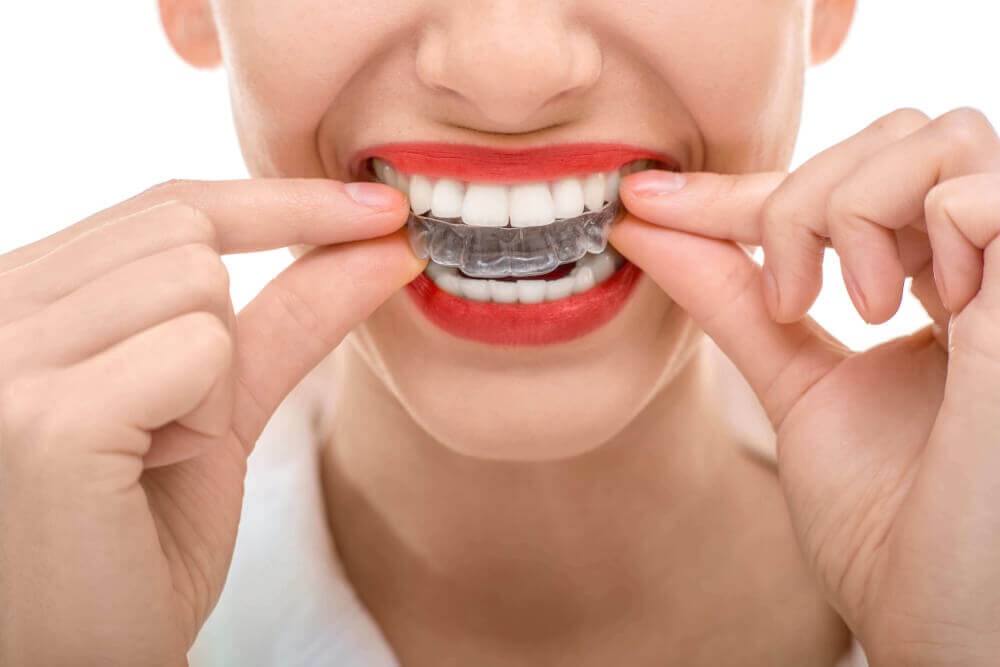 If you've dreamed of having a beautiful smile but would rather not have to wear metal braces for years in order to get one, you're not alone. In fact, over the past two decades, more than five million people have opted for Invisalign clear plastic aligners over traditional braces to straighten their teeth in about half the time required by traditional braces. Each pair of the custom-made, removable aligners, which slowly and precisely move the teeth are worn for one or more weeks and are then replaced with another set of aligners to continue the work. Dr. Marianna Farber of Contemporary & Esthetic Dentistry in New York City, NY, offers a step-by-step guide detailing the Invisalign process.
Step 1: Schedule a consultation
The versatility of Invisalign has made it an extremely popular choice among dentists and patients alike. But is it right for you? Dr. Marianna Farber can determine this during a consultation at her office located in the heart of New York City. Made of clear plastic, Invisalign is a terrific option for teens and adults who want the benefits that orthodontics offers, minus the pain, brackets and wires that accompany metal braces. The trays must be worn nearly 24 hours each day, so patients must be dedicated to following their treatment plan in order to experience optimal results. The aligners are best suited for cases of mild-to-moderately crowded and gapped teeth. Those who have an overbite, underbite, or crossbite, in which the dental arches are misaligned, also may be good candidates for Invisalign.
Step 2: Develop a treatment plan
Much like the custom-made aligners themselves, each patient's Invisalign treatment plan is specially tailored to meet their specific needs. To begin, Dr. Marianna Farber will examine your teeth and mouth as well as take x-rays. A set of impressions also will be taken of your teeth along 3D digital images. These will be used to create a sort of roadmap for the different stages of positioning the teeth that take place throughout your treatment. This plan will identify how your teeth should move with the help of the aligners, as well as in what sequence and how long that is anticipated to take.
Although the length of treatments varies, most teen patients can expect to wear their Invisalign aligners for up to 30 months, while treatment for adult patients usually lasts between nine and 15 months. To speed up that process, patients may opt for VPro5 by Propel Orthodontics, an advanced orthodontic device that requires just five minutes daily. Available at Cosmetic & Esthetic Dentistry in New York City, it employs high-frequency vibrations that work to better position and seat the plastic aligners to the teeth to improve their movement. While most patients receive new Invisalign straightening trays about every two weeks, VPro usually can reduce that time by half. Another bonus: The vibrations put forth by VPro may actually assist in diminishing the soreness some patients experience as their teeth are repositioning. Be sure to ask how VPro may be able to help you get a straighter smile sooner!
Step 3: Wearing your aligners
Once your Invisalign aligners arrive at the New York City office of Cosmetic & Esthetic Dentistry, you may stop by and pick them up. It is important to remember that each set of aligners varies and must be worn in the order specified as part of your treatment plan. Plan on wearing each set of aligners for about two weeks. You likely will notice as your teeth gradually begin to look and feel straighter. The aligners may be removed at mealtimes as well as to brush and floss daily but otherwise should remain in place throughout the day and evening. Failure to wear each set of aligners for the required amount of time will cause subsequent sets of aligners to not fit or function properly.
Step 4: Attend check-ups
Dr. Marianna Farber will provide New York City patients with several additional sets of clear Invisalign aligners during check-up appointments, which will be scheduled approximately every six to eight weeks. It is important to attend these appointments so that the progress of your teeth can be evaluated, as well as to ensure that the treatment is proceeding as planned. Minimal adjustments to your teeth or the aligners may be required, such as affixing small tooth-colored bumps made of dental-bonding material to the teeth. These are designed to assist the aligners to move the teeth in a certain direction.
Step 5: Refinements
As the end of your treatment nears, refinements can be made to ensure the best results possible. They may prove to be necessary, especially if you have not closely adhered to your specific, customized instructions for wearing Invisalign. Refinements may include the creation of additional impressions of your teeth, from which another set of Invisalign trays will be crafted that you will be required to wear following treatment as your teeth continue to move into position.
Step 6: Retainers and follow-up care
Following the completion of treatment, it will be necessary for most patients to wear fixed and removable retainers. A long-lasting fixed retainer will be placed behind your teeth, which will be hidden from view as it works to hold the teeth in place. Meanwhile, custom Vivera retainers are created using impressions of your teeth. They are made of the same materials as Invisalign aligners and effectively keep the teeth in their new position. Patients will be advised how many hours each day your removable Vivera retainer must be worn as well as how to care for it properly. Patients should continue to maintain good oral hygiene by brushing and flossing daily. They also should schedule and attend follow-up appointments so that Dr. Marianna Farber may continue to closely observe the position and alignment of your teeth and bite.
Are you interested in Invisalign?
By following a few simple steps, it is possible to achieve a stunning smile with the help of tried-and-true Invisalign clear aligners. Contact Dr. Marianna Farber of Contemporary & Esthetic Dentistry in New York City, NY to get started.